SOURCE: Andretti Autosport
INDY LIGHTS RECAP
SEASON BY NUMBERS.
For the first time in nine years, Andretti Autosport has returned back home again in Indiana as Indy Lights Presented by Cooper Tires series champions, marking the third championship title in team history. Andretti Autosport driver Patricio O'Ward clinched the driver championship with two races remaining adding his name to the team's previous two championships with Raphael Matos in 2008 and J.R. Hildebrand in 2009.
This team's success started early as rookie driver O'Ward would bring home the team's first Indy Lights win of the season after Race 1 on the Streets of St. Petersburg. Continuing through the 17-race season, the Indy Lights stable would collectively bring home 14 poles, 14 wins, 33 top-3 finishes and lead 515 of 655 laps. The team ends the season with a total of 49 Indy Lights series race wins.
---
IN THEIR WORDS.
NO. 27 CDMX MEXICO CITY STELLRECHT MAZDA
2018 SEASON
WINS
POLES
PODIUMS
LAPS LED
CHAMPIONSHIP
/ POINTS
9
9
14
367/655
1 /  491
"For me, this season was all about creating a name for myself and enjoying what I love to do most, racing. It's hard to think of a year where I have had more fun racing cars and going fast! This season taught me a lot and some weekends went better than others, that's for sure, and different situations really tested my knowledge and patience throughout the season. I couldn't be more grateful of the opportunity that  was presented to me by the whole Andretti Autosport family, and for that I am truly very lucky. There are really good things coming up in the next few years, and I couldn't be more pumped to get going!"
NO. 98 ANDRETTI-STEINBRENNER RACING / CURB MAZDA
2018 SEASON
WINS
POLES
PODIUMS
LAPS LED
CHAMPIONSHIP
/ POINTS
4
3
13
125/655
2 /  447
"I can't thank the Andretti-Steinbrenner Racing team enough for this season. The team dominated the year and the No. 98 car was great all year long. My engineer Doug [Zister] and mechanics Carlos [Fernandes], Rick [Hurford] and Sean [Birmingham] did an amazing job all season. It has been a fun two years of my life that I have no regrets about. I'm looking forward to next season – I'm still trying to put stuff together, but the goal is to run full time in the INDYCAR Series and hopefully we can make that happen."
2018 SEASON
WINS
POLES
PODIUMS
LAPS LED
CHAMPIONSHIP
/ POINTS
1
1
4
6/655
4 /  345
"I think this season was great for my overall growth as a driver – especially with the momentum that we carried the last couple race weekends. The last half of the season I was able to get on the podium again, win for the first time in the series and start from pole for the last race of the season. Unfortunately, Portland didn't really go how I wanted it to with the crash at the start of the race, but there have been a lot of positives to carry into the offseason. I think if we tweak some things during our time off, we will be able to come back next season and make a strong run for the championship."
NO. 28 K-LINE INSULATORS USA MAZDA
2018 SEASON
WINS
POLES
PODIUMS
LAPS LED
CHAMPIONSHIP
/ POINTS
0
1
2
17/655
7 /  299
"It was a tough season for us with a lot of ups and downs. We did have some high points – performed really well on road courses and the month of May was really good to us. Coming into this season, the goal was to make a run for the championship with this being my third year competing in the Indy Lights series with Andretti Autosport. Although we didn't capitalize on that goal, there are still some positives to take away, and I'm looking forward to seeing how things shape up for the 2019 season."
---
ROOKIE TO SERIES CHAMPION.
It was an unbelievable, stand-out rookie season for driver of the No. 27 machine, Patricio O'Ward.  O'Ward showed he was a force to be reckoned with as his fast, strategic driving named him a championship contender all season.
In 17 rounds of competition, O'Ward completed 654 of 655 laps, seeing 367 of those laps from the front of the field. Finding himself on the podium a total of 13 times this season, O'Ward collected nine poles and nine wins to earn the titles Indy Lights Presented by Cooper Tires Series Champion as well as Rookie of the Year.
FREEDOM 100.
Round 7 of Indy Lights competition took place on the iconic oval at the infamous Indianapolis Motor Speedway. The race was action-packed with 20 lead changes involving five different drivers for 100 miles. Unable to finish the Freedom 100 last year, Colton Herta, starting from nearly the back of the pack, moved up the field five positions and led the race for 10 laps chasing the checkered flag across the yard of bricks to victory.
While only leading three laps, Patricio O'Ward, skillfully placed his No. 27 Mazda into top-three contention – just missing the top spot to teammate Colton Herta by .0281 of a second. O'Ward collected his fourth top-three finish of the season.  After starting from pole, Dalton Kellett went into race day ready to drive his way to Victory Lane. Having led 17 laps of the 40-lap race, Kellett battled for the win all afternoon before falling back a couple positions to earn his third, third-place finish at the Freedom 100.
Sophomore driver, Ryan Norman, just missed starting his second Freedom 100 from the front row. In an attempt to save tires, Norman laid back early in the race. After some strategic driving, Norman moved up the field and ran as high as P2 finding himself in contention for a top-three finish. It was an intense battle to the checkered but ultimately, Norman ended his day from fifth.

DON'T STOP BELIEVING.
Sophomore driver, Ryan Norman had a slow start to the season – having only captured one podium finish during the first stint. Not surprising, that didn't stop the Ohio-native from believing in his own potential as the young driver would put the pieces together for a spectacular second half of the season. Norman drove his No. 48 Journey Mazda to two more podium finishes with a third-place finish in Race 1 on the Streets of Toronto and another at his home track in Mid-Ohio. Norman would finish his season with one race win at Gateway Motorsports Park and start on pole for the final race of the season at Portland International Raceway.

DRIVEN BY STEM.
After collecting his first Indy Lights career pole for the Freedom 100 and driving the No. 28 K-Line Mazda to two podium finishes, Canadian driver, Dalton Kellett, found a way to combine his love for racing with his passion for STEM [Science, Technology, Engineering and Mathematics] by becoming an Ambassador for Ten80 Education Partners Driving STEM.
Leveraging his platform as an athlete to promote STEM education and ultimately influence kids to pursue their dreams in STEM fields, Ten80 Education joined Kellett as an Associate Sponsor at the driver's home race on the Streets of Toronto, in an effort to bring STEM awareness to open-wheel racing. The pairing hopes to maintain a relationship into the future as Kellett introduces Ten80 to the INDYCAR market, promoting STEM and engaging young fans with their programs.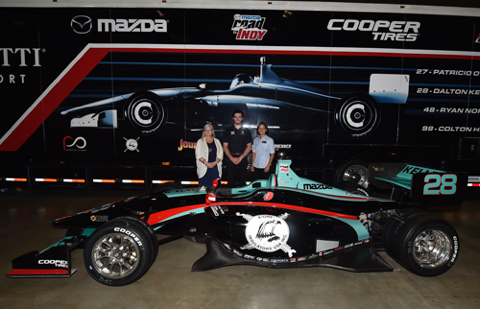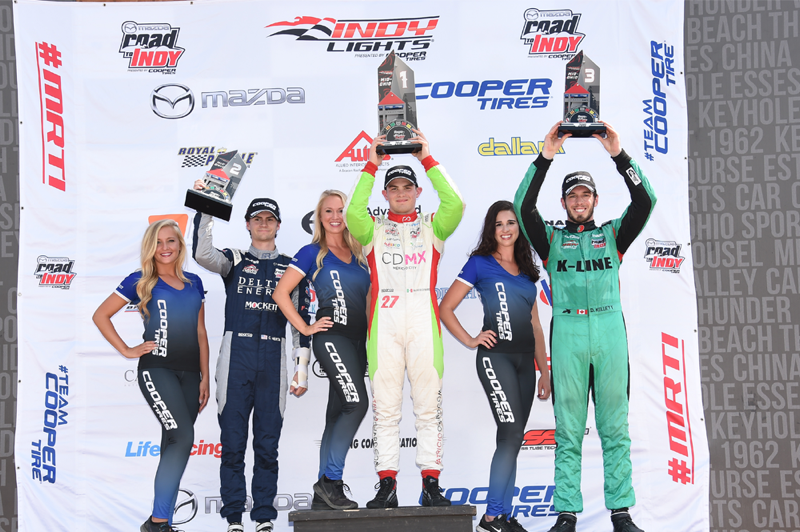 ROYAL PURPLE SLICKEST PASS AWARD.
At the end of the season, drivers from each series of the Road to Indy Program have the chance to win the Royal Purple $5,000 "Slickest Pass" award. Teams submitted video clips of each driver of their "slickest pass" to date, and a Royal Purple voting committee selected the Top-3 slickest pass videos.  The top-3 selected were then shared via Twitter, Facebook and Instagram and fans voted via social media to determine this season's winner. Patricio O'Ward and Ryan Norman were among the three drivers chosen for the award, and it was Mexican-driver O'Ward finishing the season with the slickest pass.
NEXT.
Headed back to Indianapolis with a Team Championship and Series Championship, the Indy Lights Presented by Cooper Tires season has come to an end.
Keep up to speed with Indy Lights during the off-season with AndrettiAutosport.com and via our suite of social media channels.